"There were lots of challenges, like constant power blackouts however it is what you sign up for and in the end it was satisfying accomplishing something in a challenging environment. You constantly had to adjust your expectations, we were having doubts we could finish the project and then it all came together! You become friends for life with the other volunteers. I remain in constant contact with the project and would love to go back."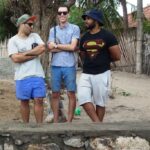 UK/ Netherlands
James and Liza
Gene Therapist and Animal Care
"There were lots of challenges, like constant power blackouts however it is what you sign up for and in the end it was satisfying accomplishing something in a challenging environment. You constantly had to adjust your expectations, we were having doubts we could finish the project and then it all came together! You become friends for life with the other volunteers. I remain in constant contact with the project and would love to go back."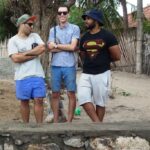 Civil Engineer and Quantity Surveyor
"Gaby and I arrived in February 2022, just after Bridging Lanka had been struggling to pick itself up after the pandemic. We quickly got a great insight into all the projects being run and met the wonderful team working in the BL office. We specifically helped re-launch Café Arokkiya and updated the charities website and social media. In total we spent a month here and it has been an amazing experience. Exactly what we hoped from our Sabattical"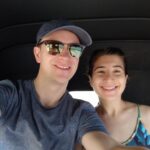 Australia
Vilma and Lindsey
Vilma and Lindsey from Melbourne are no strangers to Sri Lanka. Vilma is of Burgher heritage and came to Mannar to explore its Dutch history, with Bridging Lanka as the trial tour operators. Although a fleeting visit, Vilma and Lindsey were keen to know about other BL programs, a sign of their deep connection to Sri Lanka and their generous hearts.
Back in Australia they have offered to provide library books, have written articles for newspapers, arranged SBS radio promotion to bring some badly-needed publicity.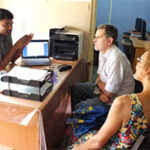 Australia
Margaret Bornhorst
Brisbane-based Margaret Bornhorst is a teacher of languages and came to Mannar to assist with the research and development of the English as a second language program. Margaret brought academic rigour, helpful know-how and oodles of positive energy so was a delight to have around for professional AND social reasons. Margaret spoke to many teachers and classes of students and together with Grace and Huyen, set up a support group for English teachers, making many valuable language resources available.
Margaret forged instant rapport with many.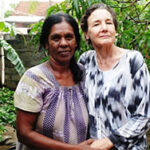 Mirjam Link, from Estonia, was yet another shining light. Mirjam was activity-focused and conducted holiday programs for Mannar's youngsters. Her "tom boy" energy was balanced by a deeply connecting and open disposition – always a mature presence to have around. Mirjam was also hard-working and took initiative. She was also tasked with undertaking an evaluation of Diaspora Lanka's volunteer and homestay programs. She was well loved by the locals and supported them through tough times.
The yin and yang are well balanced in Mirjam.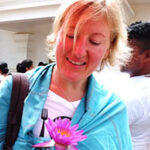 Huyen Lai is another very special volunteer, from Vietnam, who spent six months in Mannar. Huyen brought a "bad girl" drive to whatever she did and was passionate and hard working. Her heart, head and hands were aligned and she engaged with honesty, humility and a learning spirit. Huyen was tasked with undertaking research into teacher and student experiences of learning English in Mannar, building the capacity of existing English teachers, conducting language classes for students and supporting youth leadership development.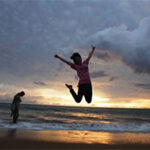 Tauri Tampuu from Estonia volunteered for four months in Mannar. This is one extraordinary young man. He brought a rare and impressive level of commitment to the tasks assigned to him, related genuinely with local people and was a great personal support to Jeremy.
His primary project was to head up a team to develop a sustainable and community-level tourism strategy for Mannar. Tauri brought a strong work ethic balanced with loads of fun. His adoption by the community means he has no choice but to return.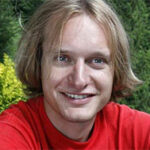 Steve Dunn, National Director of Planning Institute of Australia (PIA), recruited, trained and coordinated a group of planners who came to Mannar, northern Sri Lanka to work on a project to protect and rehabilitate a water retention body (kulam) to reduce flooding and create open space with recreational and health benefits.
We are indebted to Steve for his passionate commitment, humility and generosity of spirit for Sri Lanka. It is his fifth visit to Mannar!